The Underground: "A Huge Success"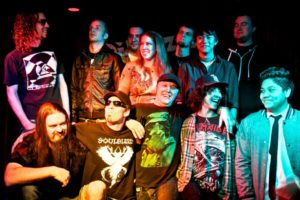 The Underground, touted "a big party with bands playing" by Cerebellion singer Joe Arnold, was a monstrous success at DiPiazza in Long Beach CA this past Sunday, February 19th. The event was designed, hosted, and booked by the bands along with Steve from Buzz Radio. The idea, conceived of by  guitarists John from Cerebellion and Chris from Drown the Witness, was to put on an event with great unsigned metal/hard rock bands from SoCal that have a killer vibe together, both musically and personally. All parties involved had a desire to create a scene where friends and fans of all ages could come to hang out, eat, drink, and see all the bands play (not just one band)!
The highly-anticipated event went down just as planned and people came away with smiles from ear-to-ear. "They had to kick us out" to close their doors, urged Jimmy of Cerebellion. Photographer Eric Wilson put it best: "Great group of people came out to support the Underground. Everyone was happy and looking after each other, this is what I like to see." Band "merch," from all of the bands, was raffled out throughout the night and even one lucky fan walked away with a bass drum head signed by all of the members of all the bands!
The event was sponsored by Buzz Radio (http://www.buzz-radio.net) and Bullet Cable (http://www.bulletcable.com), two innovative businesses who have taken a bold stance in fostering this scene for independent metal and hard rock artists.
The bands that played in the first "The Underground" were Cerebellion, Drown the Witness, Soulbleed, The Armiger, Haster, and Forsaken Grace…This is the first in a series of events presented by "The Underground." More dates to be announced soon…